Press Release – IHA Now Smoke-Free
April 27, 2018
Ithaca Housing Authority Goes Fully Smoke-Free on May 1
New policy covers all 341 units, aims to improve living conditions for hundreds of tenants
(ITHACA, N.Y.) — Taking a major step for the health, safety, and comfort of tenants and staff, all Ithaca Housing Authority (IHA) properties will become smoke free as of May 1, 2018. The new IHA policy prohibits smoking or vaping by tenants, guests, or staff in any apartment, common area, or IHA outdoor areas (unless otherwise designated). Tenant and staff meetings, a public comment period, and signing lease addendums have been taking place since the policy was passed by the IHA Board of Commissioners last fall. The policy includes Northside, Southview, and Overlook Terrace family sites as well as Titus Towers I and II.
"Secondhand tobacco smoke is a real issue for tenants and landlords alike," said IHA Executive Director Brenda Westfall. "It is impossible to contain the smoke from even one tenant, so it drifts into hallways and neighboring apartments. Even what some may consider 'minor' exposure is enough to be a serious health risk for tenants with respiratory ailments, for children, and for pets," she explained.
Additionally, Westfall cited secondhand smoke as a workplace hazard for maintenance staff and building managers, a serious fire risk, and a big cost factor when turning over apartments between tenants.
"Use of electronic cigarettes and other vaping devices is included in the policy simply because the health risks of exposure to the secondhand vapors are still unknown," Westfall added. "We are emphasizing tenant and staff health with this policy, so we're following the County's lead." Tompkins County law has prohibited vaping indoors at all workplaces since 2014, and more recently New York State has done the same.
Smoke-free policies for rentals and multi-unit housing are fast becoming commonplace locally, statewide, and nationally. The U.S. Department of Housing and Urban Development (HUD) finalized a rule in December 2016 that requires all federally funded public housing to be fully smoke free by July 30, 2018. Well over 50 housing authorities in New York State already have smoke-free polices that cover all apartments, including Syracuse, Rochester, and Buffalo.
Press Release – NYSPHADA Scholarship Winner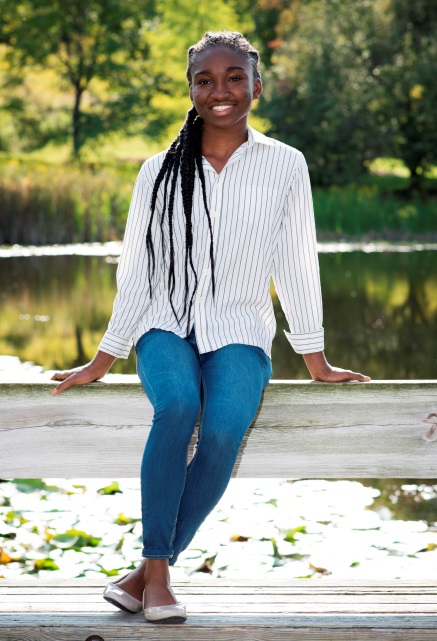 April 23, 2018
The New York State Public Housing Authority Director's Association (NYSPHADA) Board of Directors is pleased to announce that it has awarded its 9th annual College Scholarship Award in the amount of $2,500.00 to Ijeyikowoicho (EJ) Onah. Applicants must be a high school senior living in public or assisted housing at a NYSPHADA member agency. Ms. Onah and her family are participants of a housing program administered by the Ithaca Housing Authority where NYSPHADA member Brenda C. Westfall serves as Executive Director. Ms. Onah was presented with her scholarship at NYSPHADA's Annual Spring Conference for Public Housing Authorities on April 11. In addition to the base scholarship, Ms. Onah received the sum of all the application fees and generous outside donations, bringing the total sum of Ms. Onah's scholarship to $4,500.
 Ms. Onah currently has an unweighted GPA of 3.48 and a weighted GPA of 4.28!!  Ms. Onah is very active in many extracurricular activities such as:
track and field where she has set new school records
Captain's Council which brings awareness to high school athletics.
Girls Who Code which aims to support and increase the number of women in computer science.
National Society of Black Engineers, a national organization that aims to increase and support the number of African Americans in STEM fields such as technology, science, engineering and math.
Ms. Onah's employment began when she was 13 years old. Her jobs included being a camp counselor, a server at a local restaurant and hotel, a research intern at a local nonprofit organization, and an IT intern at City Hall. Each job provided valuable experiences that inspired her to pursue a future in business to assist women in third world countries who want to create their own businesses. She will be studying business at the University of Albany in the fall of 2018. She plans to take advantage of the job opportunities in the capitol city after graduation and fulfill her dream of being the CEO of a micro lending company. She also plans to break records in Track and Field at college!
Ithaca Housing Executive Director Ms. Westfall describes Ms. Onah as an energetic and inspiring young lady who continues to challenge herself and adds that the IHA Board of Commissioners, our entire staff and I are extremely proud of EJ and her achievements. "I have nothing but confidence that she will continue to succeed in her studies as a dedicated student with strong academic ethics who always strives for excellence."
Press Release – High Performance Rating
To Whom It May Concern:                                                    April 5, 2018
The Ithaca Housing Authority (IHA) received a "high performance" rating from the Department of Housing and Urban Development (HUD) for its operations.  This is the highest ranking that may be assigned by the federal government. The Agency earned 91 out of a possible 100 points under PHAS (Public Housing Assessment System) for its fiscal year ended September 30, 2017.
Public housing provides decent and safe rental housing for eligible low-income families, the elderly, and persons with disabilities. The IHA serves approximately 340 families in Tompkins County under this program.
PHAS consists of four components: physical (buildings/grounds), management, financial, and capital fund.
Of the approximate 3,300 housing agencies in the U.S., the IHA is among a select number of housing agencies to achieve and maintain this prominent distinction.
Quote by:
Brenda C. Westfall, Executive Director: "Our successful program is the product of a hardworking and dedicated staff that allows us to consistently rank among the best affordable housing agencies in the country."
34th National Night Out Event
August 2017
The IHA was pleased, once again, to host two National Night Out block parties on August 1, 2017. The IHA has been hosting these friendly community block parties at Titus Towers and at Conway Park for over 20 years.
National Night Out is an annual community-building campaign that promotes police-community partnerships and neighborhood camaraderie to make our neighborhoods safer and more caring places to live. National Night Out enhances the relationship between neighbors and law enforcement while bringing back a true sense of community. Furthermore, it provides a great opportunity to bring police and neighbors together under positive circumstances. Millions of neighbors take part in National Night Out across thousands of communities from all fifty states, U.S. territories and military bases worldwide on the first Tuesday in August, and IHA is proud to host the memorable event in Ithaca.
Both of IHA block parties are open to the general public and hundreds of community members participated at both sites as they came out to enjoy delicious food, free prizes, face painting and musical entertainment. Many from the community return every year and the event brings together a great diverse community. Information tables were set up at both sites by local vendors. The Titus Towers party hired D.J. George Stevens as the musical entertainment, while D.J. Double A played top hits at Conway Park.
Quote from Brenda C. Westfall, IHA Executive Director
"IHA could never host these events without all of our partners, volunteers, vendors and local merchant donations, and I sincerely appreciate their generosity. Thank you to IHA Administrative and Maintenance staff who played a significant part in the success of this event and to our many wonderful and generous residents who volunteer year after year. It is heartwarming to see our great community come together on this special night with a focus on crime prevention and improving the quality of life for everyone. Let's all work together every day to bring awareness to our community by informing, educating and protecting our most valuable assets…..OUR CHILDREN."
SMOKE–FREE HOUSING
July 2017
In the upcoming months, all IHA apartments will be smoke-free in accordance with a new U.S. Dept. of Housing & Urban Development (HUD) law.
Details are forthcoming. If you currently smoke and wish to quit smoking, call the IHA Office at 607-273-8629 for information on how to quit.
Improving Healthcare, Reducing Healthcare Costs:
The Nurse Case Manager Program at Ithaca Housing Authority's Titus Towers
September 2016
From reduced utilization of healthcare costs to enabling individuals to age with dignity in their homes—by any measure, the Nurse Case Manager Program (NCMP) at the Ithaca Housing Authority's (IHA) Titus Towers complex is a clear success. Over just 18 months (Dec. 2014 – May 2016), the NCMP has reduced Medicaid healthcare costs by more than $1,640,000:
Reducing the rate of hospitalization: $73,000
Reducing the need for third-party nursing services: $235,200
Reducing resident transfers to nursing homes: $555,000
Enabling residents to return home after rehabilitation in nursing homes:  $777,000
Funded by the NYS Department of Health with additional support from the U.S. Dept. of Housing and Urban Development, IHA's NCM program effected these health system savings by improving healthcare outcomes for elderly residents. The IHA's Titus Towers complex is home to 250 senior residents, among them frail elders with histories of chronic and life-threatening illness. Their ability to continue living independently at Titus Towers depends on their health: avoiding the need for hospitalization—especially costly repeat hospitalizations—is key to delaying, or entirely avoiding, a debilitating, downward spiral that accelerates either transfer to a nursing home or death. By establishing a trusting and intensive relationship with residents and their families, and consulting closely with residents' physicians, the NCM provides critical, onsite healthcare assistance to residents: developing assessments, implementing care plans, educating residents about simple self-care, assuring residents' compliance with physicians' orders, and assuring that physicians' and hospitals fully understand residents' needs. A more modest version of the NCMP was initiated by the Ithaca Housing Authority in 2009. It was then that IHA's Executive Director, Brenda C. Westfall, recognized that the regular flow of residents to nursing homes could be sharply reduced by providing onsite basic healthcare services. Soon, it was clear that providing those simple services simultaneously reduced healthcare costs. Now, seven years later, the NCMP saved $1,640,000 over the last 18 months—a calculation that does not include physician fees, emergency room charges, ambulance costs, and more. Thus, the savings are really much bigger. As for the improved quality of life accompanying better healthcare outcomes—invaluable!
IHA Wins Low Loss Achievement Award
Fall 2016
The Ithaca Housing Authority received a Low Loss Achievement Award from our insurance company as a result of our consistent performance in achieving a low loss ratio in general liability claims for the years 2012, 2013 and 2014.  Executive Director Brenda C. Westfall stated:
"Congratulations and thank you to all staff – it takes the dedicated effort of everyone in an organization to be mindful about safety procedures to accomplish this."
In addition, we were awarded a Five Star Performer Award for our Outstanding Risk Control Program as a result of having essential documentation and procedures in place to limit our risk.
Northside After-School Program
October 2016 – June 2017

For the second consecutive year the IHA has partnered with Cornell Cooperative Extension's 4-H Program to provide an after-school program at our Northside Community Center. Our resident children benefit greatly from this program in the form of:  homework assistance, healthy snacks and nutritional information, educational learning games, social activities, field trips and much more. The Program will run from October 2016 – June 2017 and is free to our residents.
Ithaca Housing Authority Awarded FSS Grant
Fall 2016
The Ithaca Housing Authority was awarded $137,360 from the HUD-funded Family Self-Sufficiency Program grant. This is a one-year grant that funds two Family Self Sufficiency Case Managers — Marion Deats and Cynthia Kloppel.   Marion was hired 1999 and has held the role of FSS Case Manager for nearly 18 years. Cynthia Kloppel joined her in 2015 as another FSS Case Manager and together they support FSS participants as they strive to attain a higher level of self-sufficiency through better employment. They have witnessed many personal success stories as participants improve their financial circumstances through the Program, potentially enabling them to purchase a home of their own, further their education to obtain a better job, and achieve other personal goals. "It is a privilege to be a FSS Program Case Manager for this 5‑year program that has a positive significant impact in the lives of the FSS Participants" —  Marion Deats, FSS Case Manager.
Ithaca Housing Authority Awarded ROSS Grant
Fall 2016
The Dept. of Housing and Urban Development awarded the Ithaca Housing Authority $246,000 under the Resident Opportunity Self Sufficiency (ROSS) grant. It is a 3-year grant that funds Molly Birecree's position of Case Manager for Elderly/Disabled. "My position as Case Manager is very rewarding because I am able to assist our elderly residents with many of their different needs to help keep them living independently longer with a high quality of life" – Molly Birecree.  The IHA places a high priority on supporting the 250 senior residents living at Titus Towers, and this grant funding will ensure that we continue to provide quality supportive services to our residents.
Age 90 & Better Celebration
Summer 2016
The IHA hosted a celebration for our Titus Towers residents who are age 90 and better on August 26, 2016.  Seven residents were honored and enjoyed all of the attention from their friends, members of IHA staff, a representative from Congressman Tom Reed's office, and two City Council Members. IHA staff members Doreen Osterman, Stephanie Lovett and Molly Birecree played an integral part in planning this celebration by  creating centerpieces and programs, decorating, making delicious punch, coordinating the catering with Kendra's Culinary Creations, which included a beautiful cake. Case Manager for the Elderly/Disabled Molly Birecree and Executive Director Brenda Westfall shared thoughtful speeches that honored the distinguished guests. We also shared a toast with our honored guests with sparkling apple juice. The event was captured by our new on staff photographer Samantha Spence. Thank you everyone for making this a truly memorable event for our beloved age 90+ residents.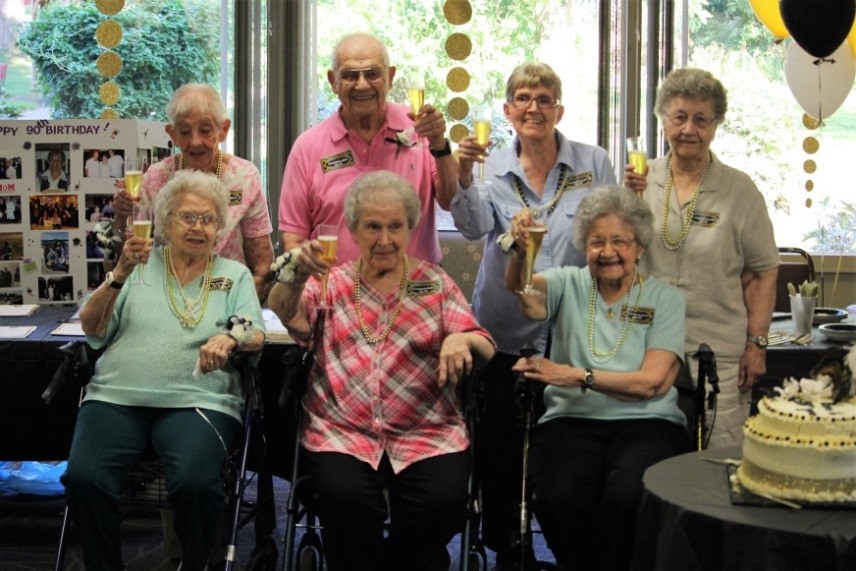 Archived News
Summer Feeding Program 2016
Summer Feeding Program
Summer 2016
For the 6th consecutive year, the IHA has hosted a summer feeding program at its Northside Community Center at 625 Hancock St. It starts the week after school ends in June and the program ends the week prior to school starting in September in an effort to avoid any gaps.  It is an opportunity for any child age 18 and under to receive a free breakfast and lunch throughout the summer. "We are proud to be able to offer this program in conjunction with the Ithaca City School District because it is comforting to know that our neighborhood children have a place to go for a free breakfast and hot lunch. We anticipate providing this program for many years" – IHA Executive Director Brenda C. Westfall.  You do not need to be an IHA resident to participate in this; we welcome everyone age 18 and under.  Children age 5 and under must be accompanied by an adult or an older child who is at least 12 years of age.
33rd NNO
33rd National Night Out
August 2016
For over 20 years, the IHA has generously hosted two National Night Out block parties –- one at Titus Towers and one at Conway Park. This year the event was held August 2, 2016. The event strengthens neighborhood spirit and police-community partnerships.  Both parties are open to the public and turn out hundreds of people who enjoy delicious food, free prizes, face painting and musical entertainment. Many from the community return every year and the event brings together a great diverse community. Information tables were set up at both sites by local vendors. The Titus Towers party hired D.J. George Stevens as the musical entertainment, while D.J. Double A played top hits at Conway Park.  IHA could never host these events without all of our partners, volunteers, vendors and merchant donations.  Thank you to IHA Administrative and Maintenance staff who played a significant part in the success of this event and to our many wonderful and generous residents who volunteer year after year. There is a lot that staff has to do sever
al months in advance to organize an event this size, and, of course, staff is needed onsite on the day and evening of the event to ensure a smooth operation. "I wish to express my sincere appreciation and gratitude to the many generous volunteers, merchants and vendors who made the IHA's 33rd Annual National Night Out event a success on August 2.  It is imperative that our community focus on the quality of life issues concerning not just the safety of our youth but ALL members of our greater community.  This starts with a community effort.  By all of us working together using prevention, intervention, presence, fairness and accountability, practical solutions can be found to diminish toxic cultures and chronic offending.  Let's all work together every day to bring awareness to the subtle but sometimes dangerous changes in our community by informing, educating and protecting our most valuable assets…..OUR CHILDREN" – Executive Director Brenda C. Westfall.
Giving Crime a Going Away Party
August 3rd of 2010

the Ithaca Housing Authority (IHA) helped sponsor the 27th annual National Night Out celebration.  National Night Out is a police/community partnership for the prevention of crime, drugs and violence within a community.  There was a party located in the Titus Towers 1 pavilion; however, the main event took place at Conway Park located next to the Northside developments.  This year IHA brought music to the event from the Lewis and Clark Music Group LLC.
"A purpose of Night Out is to bring communities together as one, to break down the barriers, empower the youths and offers information from Human Service agencies," said Brenda C. Westfall, the Executive Director of the Ithaca Housing Authority.  "Usually we have in excess of 200 people that come out to this party every year."
Lewis and Clark brought in a great show with DJ Split Image along with special R&B artists Elbonee 'Trece' Stevenson from Erie, PA, Mbusi Ntombela and the 15 year old rap sensation Cameron Sanders AKA Young Siege.
Inside the park, many informational tables pertaining to the community were set up.  Organizations represented at the free event included the Ithaca Housing Authority, Ithaca Police Department, The Finger Lakes Independence Center, the Ithaca Youth Bureau, and Community Dispute Resolution.  A kids tent gave out many free gifts to children, hosted coloring contests and did face paintings as well.
One new addition to the party was a mascot of McGruff the crime dog who was a big hit with the kids.  As always there was free food and entertainment from the beginning of the party until nighttime.
Many from the community return every year and the event brings in a greatly diverse community.  "The IHA greatly appreciates all of its volunteers; these are the people who make it happen.  The number of people who continue to give back to the community is phenomenal" Westfall said, "we couldn't possibly do it at this magnitude without them."  The IHA is happy to put on this yearly event and is looking forward to the 28th annual night out.
IHA Utilizes ARRA Money
June 23rd of 2010
The Ithaca Housing Authority (IHA) is concluding the first part of a project that will provide its residents with new amenities within their homes. Currently 163 apartments in Titus Towers 1 (TT1) are receiving the final touches on a reworking of their kitchen and bathrooms. The kitchen cabinets and countertops within the apartments have been ripped out and replaced, as well as the bathroom countertops, medicine cabinets and new vanities as well. The previous installation of these items took place in 1972 when TT1 was built.
Beginning very soon, IHA will move this project to their family site locations to provide those apartments at the Northside, Southview and Overlook locations with new kitchen and bathroom amenities as well. Of this $926,000 project, $649,230 was funded by the stimulus money from the American Recovery and Reinvestment Act (ARRA) of 2010. This funding has created new jobs as the stimulus was intended to do as well as provided IHA's residents with more updated cabinet and countertops. The remainder of the total came from Capitol Funding.
For IHA, this project will increase their marketability and improve their housing stock. The IHA was very excited to take part in a project that was able to benefit not just their residents, but also a project that helped out those within the community. The entire project should be finished around August 31st of this year and the IHA is already looking toward future projects that will improve the quality of life for their residents.
Relay For Life 2010
June 11th of 2010
the Ithaca Housing Authority took part in their 7th Relay for Life (RFL) Event. RFL is an annual event where teams raise money for the American Cancer Society. The event began at 6:00PM on the 11th to walk all night until 8:00AM the next morning to raise money and raise cancer awareness. The event was held at the Ithaca College Track and over $90,000 was raised.
The event as always kicked off with a few words from the committee to begin the survivors lap. All cancer survivors participating in the event line up to do one lap around the track with their caregivers.
Throughout the event there are several DJ's from the Cayuga Radio Group. For the first few hours people walk around the track and contests are judged. This year the IHA tent was decorated with posters and other symbols of pirates for this years theme of 'Pirates of the CUREabbean'.
At 9:30PM the luminaries' ceremony began where teams light their luminary bags across the track. The bags have the names of survivors or those who lost their lives to cancer. Each participant receives a candle which is lit by the "Flame of Hope" or by other candles that were lit by it. Participants then walk around the track in memory and honor of those who died from or are cancer survivors as these people names are displayed by a projector.
Throughout the night teams walk and there are many exciting events to keep people awake. Events likeTompkins Got Talent, a chicken wing eating contest and a scavenger hunt for information on cancer.  Individual teams give as well by providing selling items such as ice cream and light up glasses for small fees that contribute to raising funds.
In the end, IHA raised over $1,000 for the American Cancer Society, but that was only the beginning. Simply the presence of IHA supporters at the event walking all night is worth more than any amount of money. Participating in the RFL event is an incredible experience and everyone should participate and show their support.
IHA Resident Receives State Scholarship
January of 2010
The New York State Public Housing Authority Directors Association (NYSPHADA), announced that for the first time they were awarding a $1,000 scholarship to a high school senior living in a NYSPHADA member agency. Many qualified candidates applied for the scholarship and the Ithaca Housing Authority (IHA) was proud to hear that one of their residents was the recipient of this award. Ms. Ambria Latham, a senior at Ithaca High School received the award along with donations at NYSPHADA's annual Spring Conference on May 5th, 2010.
In her application essay, Ambria attributed her success to her mother Donna Lisa Byrd-Hallett who has provided her with guidance throughout her life. Ms. Latham is a cheerleader, a member of the National Honor Society and the African-Latino Club and has a cumulative high school GPA of 3.79. In her spare time she takes part in theatre and local food drives, as well as being a peer tutor. Latham manages to balance school and many extracurricular activities despite working a 20 hour per week job at a local clothing store, a true testament to her work ethic. Ms. Latham will be using her scholarship to attend Elmira College in Elmira, NY starting this Fall. She has kept her major undecided at this moment in order to keep all areas of study open; however, Ms. Latham is very interested in Sociology and maintains an interest in working with individuals who suffer from mental illnesses.
Ms. Latham demonstrates a true scholar who has vast potential to continue toward higher education and thanks to NYSPHADA, that dream has become even more achievable. Brenda C. Westfall, IHA's Executive Director has stated that she is extremely proud of Ambria's achievements and the young lady that she has become, and hopes to continue providing more of the organization's young residents with opportunities to further their education. The IHA would like to congratulate Ms. Ambria Latham and wish her the best of luck for her next 4 years at Elmira College.
IHA Wins Energy Star Award
March 2 of 2009
The U.S. Environmental Protection Agency (EPA) and the department of Housing and Urban Development (HUD) have awarded the Ithaca Housing Authority the 2009 ENERGY STAR Award for excellence in Energy-Efficient Affordable Housing in recognition in its efforts to provide energy-efficient housing for low-income residents.
Office Hours:
Monday – Friday: 8:30am – 12:00pm
                             12:30pm – 3:30pm
(Closed for major federal holidays.)
Contact Info:
Phone: (607) 273-8629
Fax: (607) 273-5738
EMail: